What is a crown?
A dental crown covers and protects a damaged or decayed tooth that does not have sufficient tooth structure to hold a dental filling. Using a porcelain crown, your dentist can restore your tooth's original shape, size and colour.
How do dental crowns work?
With a crown, your broken tooth will be strengthened and its appearance and function improved. Crowns may be used to restore a tooth following a dental procedure such as a root canal.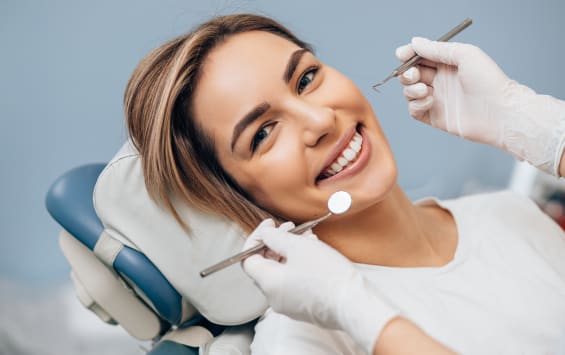 Step by Step: Dental Crown Procedure
Crowns can also be used to attach bridges, cover dental implants or for cosmetic purposes (including to lighten a discoloured tooth). 

Since they are constructed from porcelain, crowns are stain-resistant - and very durable. Using CEREC® technology, our dentists at Dental One Bankers Hall can place your dental crown in one appointment. These are the steps for the procedure:
The dentist will prepare your tooth and use a digital camera or scanner to capture a crisp, clear image of mouth, then send it to a lab so a laboratory technician can analyze all aspects of your bite and jaw movements.
The lab technician will sculpt your crown to fit that specific tooth, so you can move your jaw to speak and eat properly once the crown is placed. No mold is needed, and you won't have to return for multiple appointments.
The dentist places your crown and sculpted to your requirements, so your bite and jaw will function as they should. Your dental crown will look and function like your natural teeth and can last 10 years or more if cared for properly.
Will a dental crown work for me?
You could benefit from a dental crown if you:
Need a filling replaced, but your natural tooth is too small due to severe decay (at least one-third of the tooth must still remain), or a large fracture or crack.
Have had a dental implant or root canal procedure and need to replace missing teeth.
Have a discoloured or crooked tooth and would like to improve its appearance.
If you're interested in dental crowns, please speak to your dentist to see if dental crowns are right for you.
To learn more about dental crowns, or to schedule an appointment, contact our Calgary dentists today.